Je wilt je ideeën werkelijkheid laten worden ...
... en tegelijkertijd je grenzen verleggen?
Dan ben je hier aan het juiste adres! We bieden je voldoende ruimte voor je ideeën, uitstekende ontwikkelingsmogelijkheden en spannende uitdagingen.
Voor onder andere de machinebouw en fabrieksinstallaties in de diverse markten zoals Material Handling, Mobile Equipment, Automotive, Semi-Conductors, Lichte & Zware Procesindustrie e.a. - overal ter wereld garanderen de elektronische sensoren en automatiseringscomponenten van Pepperl+Fuchs een soepele en veilige werking.
We zijn er van overtuigd dat toegewijde en sterk gemotiveerde medewerkers cruciaal zijn voor ons succes.
Voor onze Business Unit "Factory Automation" (Industriële sensoren & Sensorsystemen) zijn we per direct op zoek naar een:
Sales Engineer Buitendienst voor het rayon Noord-West Nederland
Overtuig jij de klanten met jouw expertise?
Als Sales Engineer Buitendienst ben je verantwoordelijk voor het onderhouden en uitbouwen van bestaande relaties enerzijds en zoek je naar nieuwe kansen en mogelijkheden om je netwerk uit te breiden anderzijds. Je gesprekspartners zijn zowel technische mensen zoals engineers, projectingenieurs en technisch leidinggevenden maar ook operationele inkopers of inkoop managers. Vanuit je technische achtergrond en dienstverlenende houding ben je uitstekend in staat om klanten technisch en commercieel te adviseren over onze producten.
Je vormt een team met je collega's van de binnendienst en samen zorg je voor goede lange termijn relaties met onze klanten en prospects.
Je werkt vanuit huis en rapporteert aan de Sales Manager Factory Automation Nederland.
De sleutel tot succes?
Je bent resultaatgericht en slaagt erin autonoom, vasthoudend en adviserend te verkopen en op verschillende niveaus uitstekend te communiceren
Je hebt bij voorkeur enkele jaren commerciële buitendienstervaring met aantoonbare resultaten binnen een industriële omgeving
Je hebt succesvol een relevante MBO of HBO commercieel / technische opleiding afgerond, zoals: Elektrotechniek, Industriële automatisering, Mechatronica, …
Je bent vertrouwd te werken met een CRM-systeem en met MS-Office
Je bezit een uitstekende kennis van het Nederlands, in woord en geschrift. Je hebt een goede kennis van het Engels
Je bent woonachtig in het rayon Noord-West Nederland
Pepperl+Fuchs biedt:
Een boeiende functie bij een wereldwijde, toonaangevende speler met een breed productenpakket van topkwaliteit
Een informeel werkklimaat waarbinnen jouw eigen initiatieven worden gewaardeerd en gestimuleerd
Samenwerking met collega's die met veel passie en gepaste trots te werk gaan
Een doorlopende opleiding d.m.v. regelmatige producttrainingen en verder alle middelen die het mogelijk maken jouw werk tot een succes te maken
Een passende beloning voor de bijdrage die jij levert aan onze verdere groei, nl: een aantrekkelijk salaris, aangevuld met een bonusregeling en goede secundaire arbeidsvoorwaarden waaronder een leaseauto, een pensioenregeling en onkostenvergoeding
GEÏNTERESSEERD?
Bezorg ons je CV en motivatiebrief. Je kunt rekenen op discretie en een snelle reactie.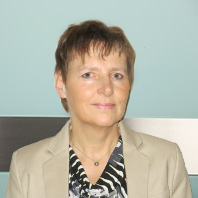 Mieke Kooyman
Do you have any questions?
I would be pleased to assist you.