Damian has worked as a sales engineer for Pepperl+Fuchs for four months. He and his team are responsible for the KwaZulu-Natal region on the east coast of South Africa. To stay on the ball at all times, he has to be very active, something that has also rubbed off on his free time. Nair loves the fast movements of boxing and bicycling.
Damian, how do you like your new job?
Damian: It's been a wonderful experience so far. The team I work with is so full of energy, dynamic, and youthful.
What do you like best about your job as a sales engineer?
Damian: I like coming up with solutions for our customers. Contact with our existing and new customers is highly important to me, and I enjoy it.
Tasks of a sales engineer
What other tasks are you responsible for?
Damian: I support and advise our customers on technical matters, introduce new products, and show customers how products work. I am also responsible for finding solutions for companies and helping them put them into practice. Besides that, I acquire new customers.
What key qualifications are especially necessary in the process?
Damian: Above all, you need social skills, and you should be an active listener and have a good grasp of technology. Energy and drive are very important, since they keep you moving all the time.
In your role, you are responsible for the Africa region. That must mean you travel a lot.
Damian: I do travel quite a lot. I'm responsible for KwaZulu-Natal province in South Africa, which is about the same size as Portugal in Europe.
And besides work…
What do you do when you're not working?
Damian: I'm always very active. I go to the gym at 5:30 every morning. I train with weights there, in the hope of getting a body like Arnold Schwarzenegger's at some point (laughs). I like to ride a bike, and I box. I enjoy the fast movements of boxing.
Another where things are moving fast is digitization, which is a huge topic at Pepperl+Fuchs. Does digitization have an impact on your life?
Damian: Yes, it's a big deal. Everything is about IT. The next generation is growing up with it. Digitization is making everything much simpler and easier – and not just for Pepperl+Fuchs, but for all companies. Instead of spending a lot of time looking something up in a book, you can just get the information online. In my personal life, social media plays a big role, too – not only to connect with people, but also to keep up with what's going on in the news, new technologies, and so on.
Would you like to join our vibrant team? Discover compelling career opportunities at our website.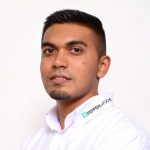 DAMIAN
Sales engineer
Working for Pepperl+Fuchs since: August 2019
26  years old