Obi is project manager at the Project Management Office (PMO) at Pepperl+Fuchs. His motto is to stay agile – both mentally and on his feet. In his job, Obi, who is originally from Nigeria, has to be able to act as flexibly as possible. In the career blog, he talks about his work and the passion he pursues after work.
Obi, you are project manager at Pepperl+Fuchs. What exactly are your tasks?
Obi: Essentially, I have to resolve a complex task with a project team in a defined period and with a specific budget. As a project manager, one of my tasks is to keep all stakeholders and project participants – from a wide range of different departments – up to date on the current status of the project. I also have to manage tasks, identify discrepancies, and identify actions to take on a targeted basis.
Sounds like a challenge.
Obi: It is, but it's also interesting. The goal is to get innovative products to market faster while keeping processes lean for maximum efficiency. To achieve that, you have to work together closely across department lines. That's relatively new for a lot of employees, so I feel it is our job as project managers to keep everyone involved on course throughout the project.
The timing determines the rhythm as a project manager
And how do you do that?
Obi: By convincing them that what we are doing is useful and important and – even with all the pressure and stress – by having fun together within the project team from time to time, too. That makes everything go more easily. I don't only spend my time putting out fires, after all; I'm happy when we bring a project to a successful close. You might think of project management as being a little like dancing: The timing determines the rhythm.
Which brings us to your favorite hobby.
Obi: Right! Aside from tennis and travel, dancing is my big passion. I even used to compete, but I don't have time for that these days. I teach salsa at the University of Mannheim once a week, and we dance at family celebrations now and then. Otherwise, our two kids  really keep us hopping. But also laughing.
How do you balance work and free time?
Obi: I have no problem doing that. Luckily, I live in Mannheim right around the corner from Pepperl+Fuchs, so I barely have a commute. Aside from that, project management calls for organizational skills and self-discipline, so I am very effective at separating work and free time.
The way to Pepperl+Fuchs?
And when did you join Pepperl+Fuchs?
Obi: I started working at Pepperl+Fuchs in October 2017. Before that, I was employed for six years as a project engineer and team leader by an American automotive supplier, but unfortunately their plant closed down. I moved close to the Pepperl+Fuchs headquarter in Mannheim in 2016. As a result, the company kept catching my eye. I found my current position on the career portal. The application process was relatively quick: first a telephone interview, followed by a personal interview on site.
Finally, what do you prefer: beach or mountains?
Obi: I prefer the beach because I would love to go for vacations at the beach with my family every year. Even though both words remind me of vacation, I associate the beach with relaxation, whereas the mountains with adventure. On top of that, I'm not a very good mountain climber and I can't ski. Therefore, I am one hundred percent for the beach. J Scenically, however, both are very beautiful!
Would you like to learn more about the career opportunities in the fields of project planning at Pepperl+Fuchs? Have a look at our career portal!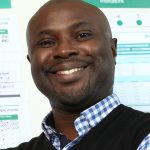 OBI
Project manager
Working for Pepperl+Fuchs since: October 2017
38 years old