Right now, giving refugees from Ukraine a temporary home is probably the biggest help anyone can offer. That same thought occurred to Wolf, EPE Product Management Assistant at Pepperl+Fuchs. Together with his wife, mother-in-law, and children, ages three and five years, he took in refugees for several weeks starting in early March. He reports on his experiences in the career blog.
Wolf, what made you decide to open your home to refugees?
Wolf: The very first week the war broke out, my wife and I started thinking about what we could do and how we could help. We have a guest room with a small bathroom, shower, and kitchenette in the basement of our home. It would have been a shame not to make that space available.
What came next once you had made the decision?
Wolf: My wife is in a WhatsApp group where people offer non-cash donations and share requests for help. A woman, who is originally from Ukraine and has been living in Mannheim for many years and working as a teacher here, asked the group in early March whether someone had a room for a woman and her two children and mother. My wife and I had enough room, so we contacted her. She passed on our address, whereupon the family drove to us in their own car.
What was it like at first after your guests arrived?
Wolf: The first thing we did was introduce ourselves, get to know each other a bit, and show our guests around, of course. We showed them how to use the washing machine and other appliances. They were especially eager to use the Wi-Fi so they could contact their relatives and friends in Ukraine. We also got to work right away to find a spot for the 12- and 13-year old kids at a school with special classes for refugee children. Homeschooling would have been an option, too, but the kids preferred to go to school in person, together with other children from Ukraine.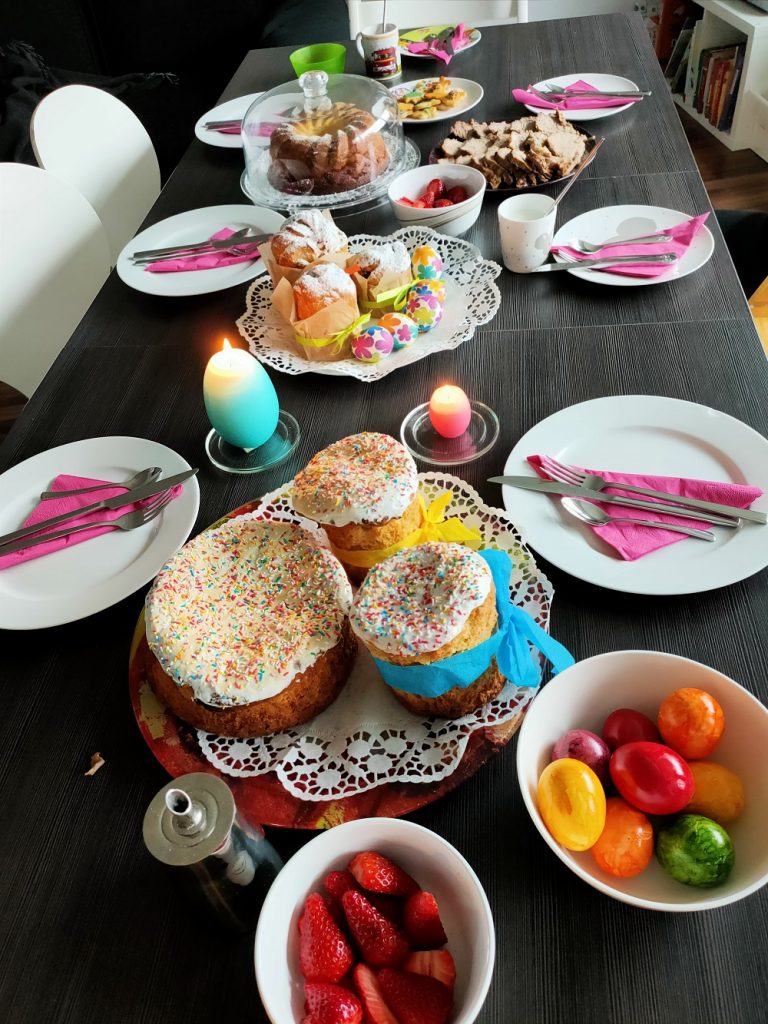 So how did things go with everyone living together?
Wolf: For the first few days, we ate dinner together every night. After a short time, we only did so a few days a week, but every couple of days the family brought us a big pot of borscht as a way of saying thank you. They made it Ukrainian style, with the traditional beets and cabbage. We did a lot of things together at the weekends. Our city offers many different events where Germans and Ukrainians can get together. We went to a concert at the Capitol in Mannheim, for example, and at the Luisenpark municipal park. It was really great to be there as people sang Ukrainian folk songs together; listening to these songs, the refugees visibly blossomed. Our Easter celebration was really special. Our guests spent two days cooking and baking for all of us.
What were the biggest challenges you faced?
Wolf: Our guests didn't speak German or English, so we used Google Translate a lot and relied on body language. Otherwise, there was definitely quite a bit of paperwork for the refugees which needed to be taken care of, things like applications for the right to stay, social assistance, and other documents. We filled out the first few forms together with our guests. But then they went to the government agencies on their own, and all we had to do was help out with a few comprehension issues. In general, our guests were very proud and always felt guilty at accepting support. It was an unusual situation for us, too. We didn't just come home after work and stick to our usual routines, as always. We always checked in with our guests and listened to what they had to say.
Did the refugees talk about their experiences?
Wolf: When we were having dinner or barbecuing together at the weekends, I sometimes asked what the situation was like back home, near Kyiv, and whether their friends and relatives were doing well and healthy. I realized that they wanted to be strong and didn't actually want to talk about what they had experienced. But then, when they showed us pictures or videos from friends living near Bucha, they started crying, and we cried with them at times. The war wasn't something that was happening only in the news. It was right there with us at home.
What came next for the refugees?
Wolf: From the start, we had always said that they could stay with us as long as they needed. For a while, they didn't even know themselves what their next move would be. The kids' dad and grandfather had stayed in Kyiv to support their country. Their dad still works as a doctor at the hospital, and their grandfather works at a hydroelectric plant. At the end of April the kids' mom received visas for Canada for all family members to make a fresh start with her family. The grandmother meanwhile moved back to Kyiv to be with her husband. So after about eight weeks, it was the end of the very unusual experience of having a family of refugees stay with us.
Do you have tips for people who are also thinking of taking in refugees?
Wolf: We had a lot of good times together, and the family said over and over again how grateful they were. And they were really nice and super helpful. Sure, the whole situation was stressful at times. But it's much worse for anyone who is fleeing from Ukraine. And it's a wonderful feeling to be able to help. That's why I'd really recommend anyone who has enough space to take in refugees.