Je wil je ideeën werkelijkheid laten worden ...
... en tegelijkertijd je grenzen verleggen?
Dan ben je hier aan het juiste adres! We bieden je voldoende ruimte voor je ideeën, uitstekende ontwikkelingsmogelijkheden en spannende uitdagingen.
In vele sectoren, waaronder de farmacie, olie-, gas- of chemische industrie - overal ter wereld garanderen elektronische sensoren en automatiseringscomponenten van Pepperl+Fuchs een soepele en veilige werking. We zijn er van overtuigd dat toegewijde en sterk gemotiveerde medewerkers cruciaal zijn voor ons succes.
Voor ons kantoor in Schoten zijn we op zoek naar een:
Internal Sales Engineer Process Automation
Ben jij een enthousiaste teamplayer en een klantgericht technisch talent?
In deze functie combineer je vooral je technische kennis en je klantgericht aanvoelen en zo speel je op een vlotte manier in op de vragen en behoeften van onze klanten. Dit zijn zowel engineering bedrijven, installateurs, integratoren, resellers en eindklanten in voornamelijk de chemische, petrochemische, farmaceutische en olie en gas wereld. Je gesprekspartners daar zijn o.a. onderhoudsverantwoordelijken en projectingenieurs. In team met je collega's van binnen- en buitendienst bouw je aan lange termijnrelaties met je klanten.
Na een interne opleiding i.v.m. onze producten en hun toepassingsgebieden, zullen je belangrijkste werkzaamheden bestaan uit:
Het uitwerken en voorstellen van technische oplossingen en offertes
Het beantwoorden van telefonische en schriftelijke vragen van klanten
De opvolging en begeleiding van kleine projecten waarbij je het aanspreekpunt bent tussen de klant en onze productiecentra in Europa.
Na een opleiding en inwerkperiode is het de bedoeling dat je doorgroeit tot Product Specialist van een van onze productgroepen ter ondersteuning van onze interne en externe klanten.
De sleutel tot succes?
Je hebt een technische opleiding genoten in Elektromechanica of Automatisatie of een gelijkwaardige ervaring in de Meet-en regeltechniek
Je wil je klantgerichte ingesteldheid toepassen binnen de sector Automatisering
Je beheerst de Nederlandse taal en hebt een goede kennis van het Engels. Kennis van het Frans is een pluspunt.
Je werkt graag in team, maar kan ook zelfstandig taken uitwerken.
Pepperl+Fuchs biedt:
Een boeiende functie in het Belgisch filiaal van een familiale multinational, die een toonaangevende speler is in de automatiseringsmarkt met een eigen breed productenpakket van topkwaliteit
Een aangenaam werkklimaat binnen een enthousiast team
Mogelijkheid tot hybride werken
Een passende verloning voor de bijdrage die jij levert aan onze verdere groei, nl: een aantrekkelijk salaris, aangevuld met een bonusregeling en uitgebreide secundaire arbeidsvoorwaarden zoals een zeer gunstige pensioen- en hospitalisatieverzekering, maaltijd- en ecocheques en een ruime fietsvergoeding
40-urenweek, 12 ADV-dagen en 21 vakantiedagen
Geïnteresseerd?
Bezorg ons je CV en motivatiebrief. Je kunt rekenen op discretie en een snelle reactie.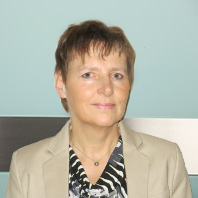 Mieke Kooyman
Do you have any questions?
I would be pleased to assist you.