After a somewhat modest return in 2022, the 2023 HANNOVER MESSE trade fair (HMI) was almost as successful as in the pre-pandemic years. Once again this year, Pepperl+Fuchs presented itself as an innovative company and impressed attendees with its hybrid booth concept.
Dr. Jochen Köckler, Chairman of the Managing Board of Deutsche Messe AG, spoke of a "spirit of optimism" and "high expectations that were exceeded" at the press conference concluding HMI 2023. Indeed, the numbers were impressive, with some 4,000 exhibitors and 130,000 visitors filling the exhibition grounds from April 17 to 21. Compared to the previous year, both the number of attendees and exhibitors was almost doubled. CEO Dr. Gunther Kegel's takeaway was very positive as well. "The tradeshow confirms our optimism regarding the electrical, electronics, and digital industry and our decision to raise our forecast to 1 to 2 percent of real production growth for this year." Therefore, he believes the industry is clearly on the upswing.
HMI 2023: An impressive showing
Pepperl+Fuchs returned to its pre-pandemic format at HMI 2023, presenting the company on a trade fair booth occupying 840 square meters of space. As in 2022, there were "islands" focusing on different themes: hydrogen, electric mobility, functional safety, industrial communication, and mobile computing. One new aspect was the "Manufacturing-X" initiative launched by the German Federal Ministry for Economic Affairs, which is intended as a framework for shaping Industry 4.0 and creating a cross-industry, cross-company sovereign data space.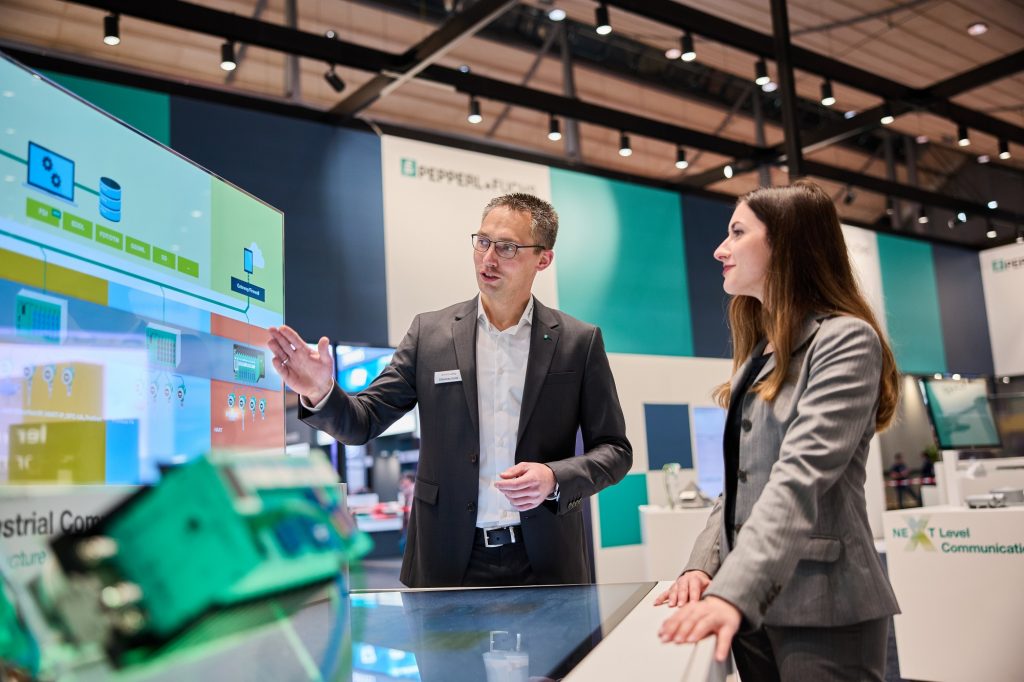 After having set a trend last year with a purely digital exhibition, the company modified the booth concept slightly for the SPS event last fall, adding appropriate physical exhibits to the digital presentation. Pepperl+Fuchs wowed fair attendees with this hybrid concept again this year. One of this year's highlights was the cutting-edge R3000 3D LiDAR/MEMS sensor, which combines two high-performance technologies (pulse ranging technology and MEMS technology) to generate high-resolution 3D point clouds. It was presented as part of a product study.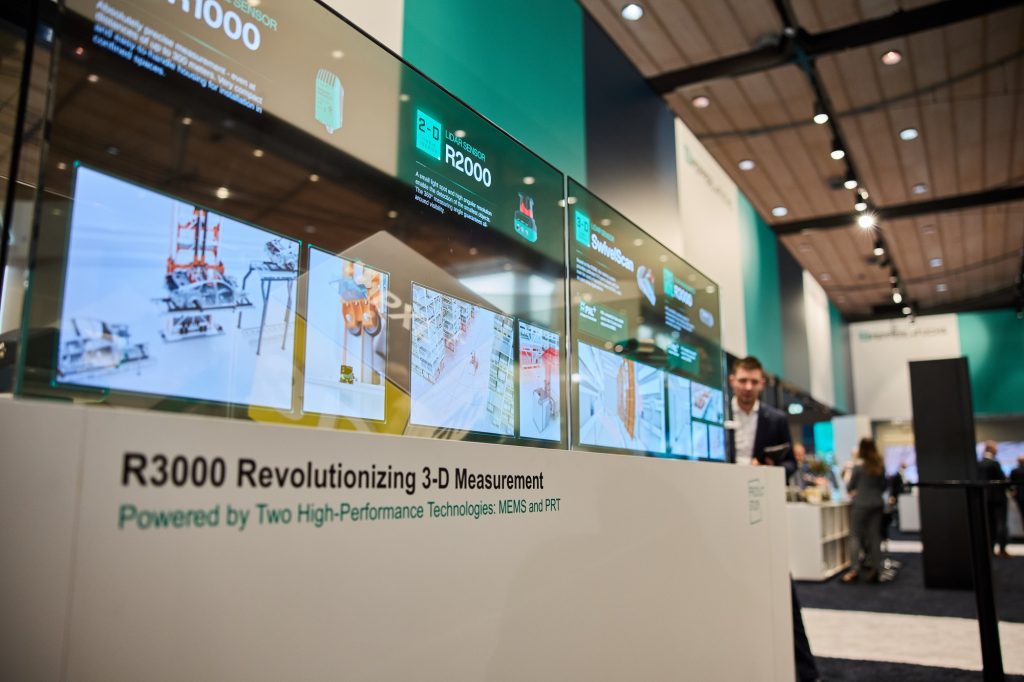 "Although some companies have started to adopt similar digital concepts at their trade fair booths, the digital approach is so rigorously implemented at the Pepperl+Fuchs booth that it's still a unique selling point for us," explains Stefan Maus, Director of Global Marketing. "The response was outstanding once again. From the sales standpoint, HMI 2023 was really a highlight." Another striking feature was that this year's event saw international guests in particular return in larger numbers.
High-ranking attendees from business and politics
Like last year, a number of high-ranking attendees from political circles stopped by at the Pepperl+Fuchs booth to chat. A group of Bundestag members representing all of the parties visited, as did Winfried Kretschmann, Minister-President of Baden-Württemberg. The entire leadership of the center-left SPD party paid a visit to the booth, with Federal Labor Minister Hubertus Heil showing particular interest in the exhibits and the presentation. "On the whole, the joint efforts by organizers and exhibitors managed to bring HANNOVER MESSE back after a tough few years," Maus concludes. "It was definitely a step in the right direction, as the positive outcome of this year's industry meetup shows. And Pepperl+Fuchs once again very successfully presented itself as an innovative company."